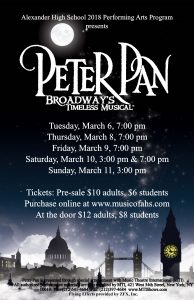 You don't want to miss this year's production of Peter Pan! 
March 6-11
Alexander High School Auditorium 
Purchase your tickets and reserve your seats today! 
 If you saw Mary Poppins last year, you know that the performing arts students, under the direction of Sandra Chandler, put on an amazing show! 
This year's performances are RESERVED SEATING and tickets can be purchased online in advance at   https://ahspeterpan.ticketleap.com/peter-pan/ 
Questions?  Email LeAnne Conn at leanne.conn@douglas.k12.ga.us