Welcome to the online home of the Alexander High School Music Department located in Douglasville, Georgia. On this site you will find information about our band and performing arts programs.
The purpose for the fine arts programs of Douglas County is to educate, challenge, and inspire students to create and perform. The fine arts programs are designed to provide students the opportunity to undergo life-altering experiences. Students will move through the stages of artistic development in order to develop an educated awareness of the truth, beauty, and joy of the artistic experience. The pursuit of personal excellence combined with meaningful fine arts curriculum is the essential foundation to prepare students for the future in an ever-changing world.
In case of inclement weather please check this site for news regarding delays or cancellations. Information will be posted in the latest news section.
---
August 29, 2017 10:08AM
Homecoming 2017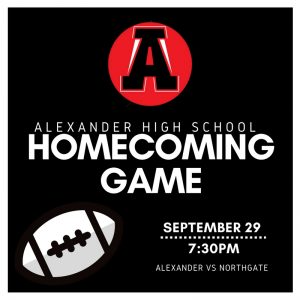 ...
Read More
---
August 23, 2017 07:08PM
2017-2018 Show Choir
Thanks to Kelly Bell, Andy Daniel, David White, and Trey Giddens for their help in the selection process. Congratulations to the following for being selected to participate in our show...
Read More
---
May 30, 2017 07:05AM
2017-2018 Symphonic Band
Congratulations to the following members of the 2017-2018 Symphonic Band: Symphonic Band Roster Thank you to all who auditioned....
Read More
---
May 22, 2017 05:05PM
2017-2018 Guard Members
Thank you to all who tried out for the guard for the 2017-2018 season. A full rehearsal schedule will be available on www.musicofahs.com. Continue to check the calendar on the website...
Read More
---
May 03, 2017 01:05PM
2017-2018 Marching Band Upcoming Dates/Events
We have several dates coming up that involve current 8th-11th grade students who plan on participating in Alexander's Band program....
Read More
---