Welcome to the online home of the Alexander High School Music Department located in Douglasville, Georgia. On this site you will find information about our band and performing arts programs.
The purpose for the fine arts programs of Douglas County is to educate, challenge, and inspire students to create and perform. The fine arts programs are designed to provide students the opportunity to undergo life-altering experiences. Students will move through the stages of artistic development in order to develop an educated awareness of the truth, beauty, and joy of the artistic experience. The pursuit of personal excellence combined with meaningful fine arts curriculum is the essential foundation to prepare students for the future in an ever-changing world.
In case of inclement weather please check this site for news regarding delays or cancellations. Information will be posted in the latest news section.
---
February 24, 2018 10:02AM
Peter Pan Stage Crew Show Assignments
Click the link for Peter Pan Stage Crew Show Assignments....
Read More
---
February 09, 2018 01:02PM
Peter Pan Ticket Information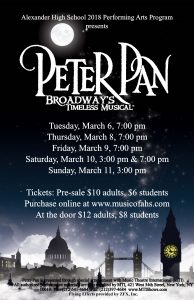 You don...
Read More
---
December 18, 2017 05:12PM
Peter Pan Cast/Company
Thank you to all who tried out for this year's production of Peter Pan....
Read More
---
December 13, 2017 06:12PM
Peter Pan Call-backs
Call backs - after school tomorrow (Thursday) from 4:00 to 6:30. (You may be done earlier). Tori Anderson Moses Dotson Yakia Pettis Preston Bourquine Maddie Archer Alex Aybar Rachel Blacksmith Madison Golden Morgan Blacksmith JJ Moran Hannah Ricci-Westcott Jasmine Batista Cassie Cosper Derek...
Read More
---
November 17, 2017 12:11PM
2018 Spring Musical Auditions
Please click below for audition information for our 2018 Spring Musical, Peter Pan. Peter Pan Audition Info...
Read More
---